Types of water bottles | Which one should I get?
As we've become more environmentally conscious, many of us are trying to reduce waste by investing in reusables, particularly water bottles. A must for hikes, our beloved water bottles will become our companions on every adventure!
But you may wonder: does it matter what type of canteen I get? Of course it does! There's water bottles made of different materials, affecting their weight, comfort, and its contents' temperature. Just a few things to keep in mind!
Here are some of the most popular types of bottles and brands!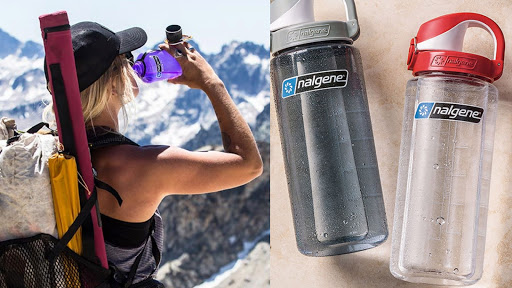 I bought my Nalgene water bottle over five years ago and have taken it with me almost everywhere! And, just like everyone else, I've personalized it with tons of stickers! They have different sizes and shapes, and they're an environmental-friendly committed company. My former co-workers used the wide-mouth ones to throw some mint and cucumber pieces in there for an infused flavor, yum!
Most metal bottles are insulated so they keep the water very nice and cold for those hot summer days. I bought a cute "rose pink" one and left it inside my hot car this one time. When I came back 4 hours later, the water was just as cold as I had poured it in initially! Unfortunately I misplaced it about a month ago.
S'well is known for their beautiful and elegant designs on the surface of their bottles. They even have an option to personalize it if you order their bottles online! PS: They also sell Cocktail Kits!
Another metal favorite, Biome is simple and light, perfect for short day hikes! This insulated stainless steel bottle lasts a lifetime and is BPA-free. Biome's insulated bottles have a lead-free vacuum seal* We LOVE this bottle, it's one of our day hiking essentials.
For those of us who fancy a little something…well fancier, this BPA Free Water bottle, juice extractor and water infuser is made from food-grade quality plastic, silicone, and stainless steel. It's dishwasher safe and the citrus press is removable.
Do you have your own wonderful bottle already? Let us know in the comments why you love yours so much and where we can get one!
And one more aluminum favorite to end the list! Loving on this Live In Nature Bamboo + Stainless Steel Thermal Bottle that can keep your tea, coffee or hot coco warm for up to 12 hours! It also keeps cold cool but we're really into this as a winter option for early morning sunrise hikes.
Charlotte is a freelancer in the marketing, film and theater industry. She loves "folk art" and any form of media that brings a message to its audience. She is also an advocate for mental health awareness and general wellbeing. One day, she'll become an author and expert foodie.